Taufeek Khanjar becomes 'oldest' new British citizen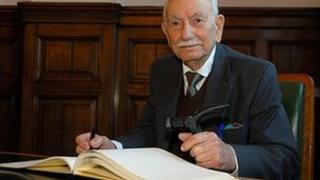 A 104-year-old man is thought to be the oldest person to have become a new British citizen.
Taufeek Khanjar, who is originally from Iraq and worked as a jewellery maker in Baghdad, came to the UK six years ago to live with his daughter.
After a ceremony at Surrey County Council's headquarters, he said he was "very happy" to be a British citizen.
He said the secret to a long and healthy life was "never get stressed and be relaxed".
He said: "I never lose my temper and whatever happens I take it in my own stride.
"If the world capsized I still wouldn't strain myself.
Oath to the Queen
"I keep busy by watching television, playing cards, reading and listening to music. I also like to repair watches and other broken items."
The widower lives with his daughter Nada Dabis, 59, in South Cheam, south London. He has four sons and two daughters.
Surrey county councillor Denise Saliagopoulos said Mr Khanjar was believed to be the oldest person to become a new British citizen.
She said Mr Khanjar took an oath to the Queen, during the ceremony, and pledged that he would be a faithful citizen and obey the laws of the country.
Ms Saliagopoulos said: "Mr Khanjar was immensely proud to become a British citizen.
"Everyone was delighted to play a part in making his dream come true."