Surrey rail services returning to normal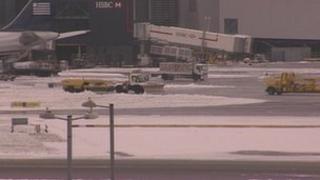 Rail services in Surrey returned to normal following the adverse weather conditions over the weekend.
Southern railways expected to run a normal timetable on Monday, but warned passengers of "minor delays".
Southeastern also warned passengers that delays were "very likely" and had hoped to operate a normal timetable despite the icy conditions
There were three reported school closures in Surrey and one partial closure on Monday.
The heavy snowfall across Surrey at the weekend led to difficult conditions on the region's roads and disruption at Heathrow Airport.
Traffic incidents included a collision between a car and an ambulance in Ashford and a 4x4 that overturned in Guildford.
Heathrow Airport operator BAA said services had returned to normal after hundreds of flights were cancelled on Sunday because of snow.