Betchworth Castle ruins made safe for Surrey visitors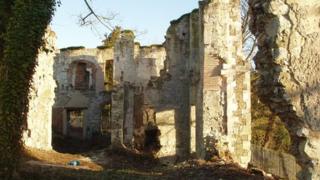 Some castle ruins in Surrey have been made accessible to the public thanks to one man's efforts to restore the site.
Local historian Martin Higgins offered to buy Betchworth Castle, near Brockham, from Mole Valley District Council when it was at risk from falling down.
He wanted to restore the site and the sale was completed in 2011 for £1.
Now completion of the first phase of conservation has allowed access to the site for the first time in many years.
Mr Higgins was brought up in Brockham village and remembers going to look at the ruins when he was growing up.
"Since I was a child it has been my dream to own Betchworth Castle and allow others to visit it without trespassing," he said.
"I've been a thorn in the side of the council, who owned it for many years, and it got to the point where clearly something needed doing to it, so I offered to buy it from them and actually restore it myself."
With support from English Heritage and Surrey Historic Buildings Trust, conservation of the main part of the ruins, which stands two and half stories high and was the original great hall, has been completed.
This means that there is no longer a risk of the former fortified manor house falling on visitors.
However, the 100m long terrace is still in need of restoration but that part of the work is dependent on a lottery grant application which will be made in March 2012.
The ruins are surrounded by railings to protect them from damage and graffiti, but the area around the old castle is now accessible to to the public.
"The site will always be opened around the ruins so that people can enjoy the view and simply walk dogs and have picnics up there, said Mr Higgins.
"There are still some parts that aren't entirely safe, so if anyone does go up there they need to to take great care along the edge of the terrace."
In the future, Mr Higgins plans to open the gates to the ruins on special occasions and to give visitors guided tours of the site.
"It's a lovely thing to be able to do because its a site I've always fancied owning. It's very, very beautiful views out from it and its rather romantic," he said.