London 2012: Olympics restrictions 'threaten Surrey aerodrome firms'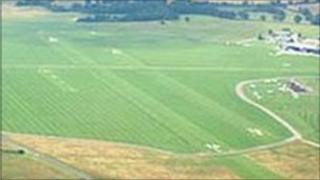 Businesses based at Redhill aerodrome in Surrey fear they will suffer heavily as a result of security surrounding the Olympic Games this summer.
Aerodrome boss Philip Wright said airspace curbs during July and August would ground many flights, costing firms up to half their expected income.
"It isn't going to be the golden egg that everybody was expecting," he said.
The government said it had halved the duration of the restrictions, which are to help safeguard the Olympics.
Redhill is within the restricted area identified by the Department for Transport where curbs on flying will be imposed.
These include a requirement for pilots of even light aircraft and helicopters to file flight plans, giving precise timings.
'Doing nothing'
Mr Wright, the aerodrome manager, said it was difficult to be precise about departures because of unforeseen events, such as delays in refuelling.
He said that, once airborne, pilots would have to leave the restricted zone, which would take about 25 minutes, rendering it pointless for short helicopter flights or one-hour flying lessons.
"We have approximately 350 full-time-equivalent jobs on the aerodrome. The companies are still going to have their overheads but they are not going to have the revenue coming in, so a lot of people are going to be sitting around doing nothing," Mr Wright said.
The Department for Transport said in a statement that, as a result of talks with the aviation sector, it had made changes to minimise the impact without compromising safety or security of the Games.
It said: "This includes a reduction in the planned duration of the restricted zone within which Redhill is located from 62 days to 33."