Guildford Guy bonfire riots sculpture sparks row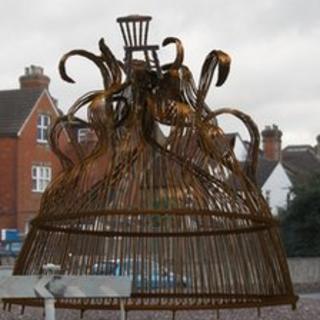 Public art commemorating a 19th Century bonfire society remembered for its violence could be installed in Surrey.
The 16ft (5m) steel sculpture of a chair in flames, that traditionally would have held a Guy Fawkes effigy, is proposed for a Guildford roundabout.
Resident Bernard Parke, whose great-grandfather policed riots in the 1800s, said it was not a subject for art.
But local historian David Rose said the sculpture would celebrate how the town brought the disorder under control.
'Sheer vandalism'
Planning documents show that from the 1820s to 1860s, bonfire night was one of the most notorious events in Guildford.
The "Guildford Guys" orchestrated wild celebrations and plundered the town for anything that would burn until the event was suppressed in the 1860s.
Mr Parke said: "How can you celebrate a riot? Would you dream of celebrating the Birmingham riots?
"This was a time of distress, sheer vandalism, when they had burning barrels of tar running down the high street."
He added: "On one occasion they actually threw a policeman on a bonfire. How can you celebrate something in that way?"
And he said: "I'm not a romantic. I don't think riots are art at all."
Mr Rose said: "The Guildford Guy riots - although a very violent period in Guildford's history - were actually something that the town encouraged.
"We still celebrate Guy Fawkes day now but by the early part of the 19th Century it was on the wane.
"Towns instigated bonfire societies to revive the celebrations of the failed attempt to blow up Parliament, but things in Guildford got out of hand."
He said the town had only had three policemen, but on one occasion a detachment of dragoon guards had been brought in, and later nine extra policemen armed with cutlasses tackled the problem, arresting four people.
Mr Rose said: "This sculpture is not only commemorating acts of violence but the fact that the town got on top of it and managed to quell the rioters."
Council officers said the installation would add interest to an uninspired space.
They said they shared concerns raised by Surrey Police that the chair design would lead to people sitting in it, trying to climb the structure and placing items on it.
Guildford councillors are recommended to refuse the plans, proposed by Electronic Arts in Onslow Street, at a meeting on Tuesday.
The artist who created the design, Theresa Smith, from Mooch in London, said rural traditions of bonfire had become frowned upon as Guildford became more middle class and urbanised.
She said the empty chair on top of the bonfire was to pose the question: "Who would be the Guy of today?"
And she said the artwork - opposite the police station - would be "perfectly placed under the watchful eye of the courts and the police".