Guildford council: No decision over bonfire riot art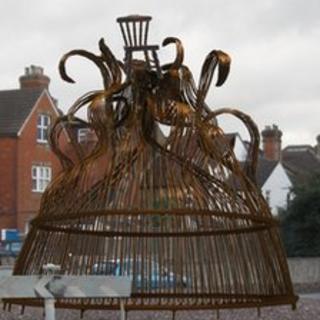 A decision on a planned public art installation commemorating Guildford's bonfire society past has been deferred.
Plans for the 16ft (5m) steel sculpture of a chair in flames went before the Surrey council's planning committee but no decision was made.
The application is now likely to go before a full council meeting in April.
Police raised concerns the sculpture, on a roundabout, could attract vandals, but a council report claimed it could add interest to an uninspired space.
'Wild' celebrations
Some residents have criticised the subject of the installation, because of the bonfire society's violent and riotous past, but others said the sculpture celebrated how the riots were brought under control.
The empty chair on the sculpture would traditionally have held a Guy Fawkes effigy.
The artist who created the design, Theresa Smith, from London-based art company Mooch, said the chair was to pose the question: "Who would be the Guy of today?"
She said the artwork, proposed by Electronic Arts in Onslow Street, was to focus on a a time when the town's rural traditions of bonfire gave way to a more middle class and urbanised community.
Planning documents show that from the 1820s to 1860s, bonfire night was one of the most notorious events in Guildford.
The "Guildford Guys" orchestrated wild celebrations and plundered the town for anything that would burn until the event was suppressed in the 1860s.