Surrey woman appeals for 'bucket list' time capsule help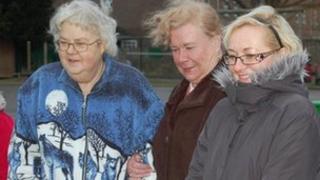 A terminally ill woman who has created a list of things to do before she dies has appealed for help in tracing a time-capsule she buried as a child.
Delia Beer, of Box Hill, Surrey, has been diagnosed with terminal cancer.
The 64-year-old created a "bucket list" of activities to carry out, including riding a Harley Davidson and having a picnic on Littlehampton beach.
But an attempt to trace a time capsule buried at Green Lane Primary failed and she has appealed for help.
'Big deal'
In 1952 Mrs Beer and her classmates at the school in Worcester Park buried the capsule to celebrate the Queen's accession to the throne.
"It was a big deal at the time and I can't understand why nobody else has remembered," said Mrs Beer who was given six months to live after being diagnosed with cancer in October.
"It was supposed to be dug up at the millennium but everyone forgot about it."
A recent attempt to find the capsule using a metal detector failed and Mrs Beer has called for former pupils and teachers who know where it is buried to help her.
Mrs Beer said she came up with the bucket list as it gave her "something to aim for".