London 2012: Olympics library cards launched in Surrey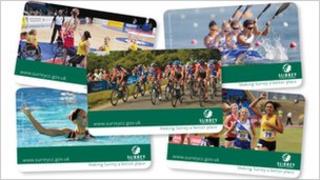 Special library cards to celebrate the London 2012 Olympics have been launched in Surrey.
The set of five cards, which are free to new library joiners, features different sports and local athletes.
Library members can upgrade their existing cards to a 2012-themed card and the set can also be bought as a souvenir.
Councillor Denise Saliagopoulos said: "It's a great opportunity to showcase our talented athletes."
Libraries in the county will also become pop-up tourist information points during the Games to help cater for the influx of tourists and to promote local attractions and businesses.