Farnham traffic pollution demonstration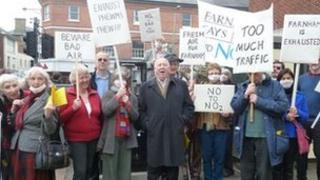 People in Farnham have held a demonstration over air pollution caused by traffic.
Residents say their health is being threatened by fumes from lorries driving through the town centre.
Many have blamed Waverley Borough Council, which declared central Farnham as an air quality management area, for not doing enough in the Surrey town.
However, the authority said Farnham was never intended to take the levels of traffic passing through.
The demonstration at 11:00 GMT saw dozens of people, including the Green MEP Keith Taylor, take to the streets.
'Valley basin'
One of the protesters, Stephen Cochrane, said: "We have a huge amount of traffic going through the town because we have two A roads that actually meet in the centre of the town.
"We have a medieval layout that means narrow streets, buildings right on the pavement.
"We also suffer because there is a level crossing in the town as well.
"We're in the basin of a valley, so pollution gathers in the town and is a problem."
According to Mr Cochrane, about 50 people marched through Farnham holding banners.
Mr Taylor said the town needed a traffic plan which addressed the growing congestion.
Bryn Morgan, who holds the environment portfolio at Waverley Borough Council, said: "Farnham was never intended to take the amount of traffic that currently goes through it.
"We've considered a number of options, pedestrianisation, the banning of lorries - all of which throw up other problems."