Exhibition at Woking's Lightbox to mark Diamond Jubilee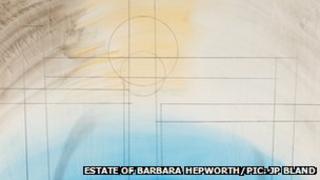 An exhibition of modern British art created when the Queen came to the throne has opened in Surrey to celebrate her Diamond Jubilee.
The Lightbox gallery and museum in Woking is hosting The Ingram Collection: A Diamond Jubilee.
The exhibition, which opened earlier, explores significant advances in modern British art during the 1950s.
Marilyn Scott, director of the Lightbox, said the period was a "new flowering" of British art.
The exhibition will showcase artwork by Lynn Chadwick, Sir Eduardo Paolozzi, Dame Elisabeth Frink and Barbara Hepworth.
Ms Scott said: "This is a hugely topical exhibition, examining the new flowering in British art, which ran alongside the Festival of Britain and the huge excitement engendered by the Queen's accession to the throne in 1952."
The exhibition will attempt to illustrate how this combination of events in the 1950s increased the status of British artists around the world.
The artwork has been loaned to the gallery by media entrepreneur Chris Ingram.