Ashford and St Peter's A&E fast-tracks cancer patients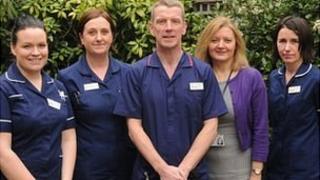 Cancer patients arriving at a Surrey hospital's A&E department are being fast-tracked to specialist care by a new emergency support team.
The acute oncology service launched by Ashford and St Peter's Hospitals NHS Trust is designed to improve support for A&E staff and patients.
Macmillan Consultant Dr Barry Quinn said nine or 10 patients with cancer went to St Peter's A&E every day.
A&E nurse leader Marcus Wootton said the service was proving a success.
Dr Quinn said cancer patients arriving at A&E fell into two groups - those whose illness had already been diagnosed and those who did not know they had cancer.
"The vast majority of people diagnosed with cancer normally come through their GP," said Dr Quinn.
"But we see a substantial number of people presenting at A&E with a possible diagnosis of cancer underlying medical complications."
The new service, run by Dr Quinn with consultant oncologist Dr Maria Drzymala, has a team of specialist nurses.
A&E staff can call on team members when a patient arrives with cancer or is suspected to have the disease.