Six-foot-long boa constrictor found dumped in Surrey park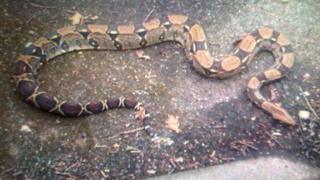 A six-foot-long boa constrictor has been dumped by a Surrey park, a council has said.
The snake was found in a car park at Ottershaw Memorial Fields, in Runnymede, on Friday and removed when it was found not to be venomous.
Dave Stedman, from Runnymede Borough Council, said: "The snake appeared to be suffering from the cold.
"She was taken to a reptile shop in Ashford where she was warmed up, fed and is recovering well."
He added: "This is one of the more unusual things that our staff have found while carrying out their duties."
A spokeswoman for the RSPCA said if anyone discovered an unusual species of snake they should contact them immediately.