Croydon NatWest 'bank scam' CCTV plea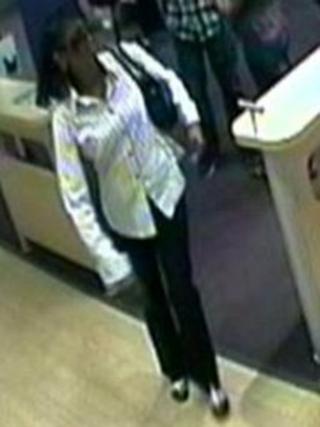 Detectives investigating alleged bank card fraud in Surrey have issued a CCTV image of a woman they want to trace.
Seven people have been charged during the inquiry into fraud that could amount to tens of thousands of pounds.
Surrey Police said they were keen to speak to a woman seen at the NatWest Bank in the Whitgift Centre in Croydon on 31 August and 1 September last year.
Det Insp Paul Rymarz said several individuals had been charged but police needed to speak to a number of others.
He said officers were looking at a large number of offences.
Police said the investigation followed claims that elderly and vulnerable people had received false calls or false correspondence from their bank and been asked for their bank cards, PINs and bank balances.
The seven people facing charges are accused of conspiracy to commit fraud and conspiracy to steal.