Runnymede council in Magna Carta site lottery bid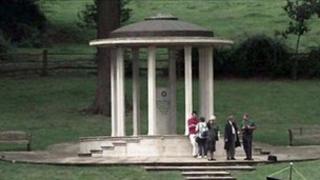 A bid for lottery cash is being submitted to help build an £8m visitor centre on the site of the sealing of the Magna Carta in Surrey.
Runnymede Council wants the centre on the site, near Staines, to be legacy of celebrations in 2015 to mark the 800th anniversary of the Magna Carta.
It is hoped 50% of the cash will come from the lottery and 50% from sponsors.
A feasibility study has been completed and the project was now taking shape, the council said.
Chief executive Paul Turrell said: "This is an extremely complex project which will, I hope, enable generations to come to understand and appreciate the huge influence that the sealing of the Magna Carta has had, not just on British human rights but those of countless other nations across the world."
He said the Magna Carta established the rule of law and human rights and challenged the divine right of kings for the first time.
Open-air performances
The project would include an education campaign about the Magna Carta, improvements to the site at Runnymede Pleasure Grounds, and a visitor centre built around the existing cafe area as the most viable option.
The centre would be a building surrounded by shallow water, including an exhibition space, cafe, office and classroom area, and an amphitheatre for open-air performances.
The council said lottery bids were made in two stages and this was a "first-round bid".
In the first round, cash can be allocated to help fund architectural work and planning assessments and, if successful, a second application is then made for the final design work and construction.