Woking council opens Hoe Valley £44m flood defence scheme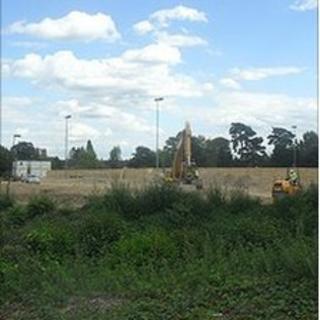 A £44m flood defence and regeneration scheme has been officially opened.
The Hoe Valley scheme has removed nearly 200 homes and several community buildings from the threat of regular flooding, Woking council said.
The authority described the project as one of the borough's biggest civil construction projects for a generation.
Work included improving roads, rebuilding bridges, relocating community groups and making new land available for housing.
Contaminated soil removed
More than 4km of reinforced concrete walls and earth embankments were constructed to protect homes and gardens from flooding.
A new park and housing development was created following the removal of about 220,000 tonnes of soil from contaminated land at the former Westfield waste site.
Nine local community groups have been given a permanent home in a new £5m community building.
Environmental measures included the planting of nearly 1,000 saplings and the creation of ponds, meadowlands, bat boxes, and habitats for voles and newts, to encourage wildlife back to the area, the council said.