Godalming pays tribute to Titanic hero Jack Phillips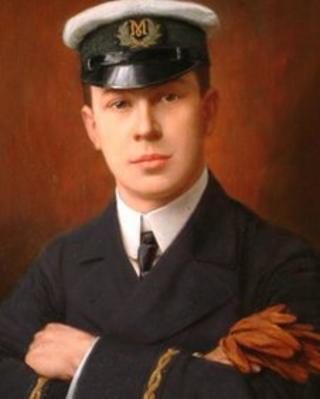 A memorial to a Surrey hero of the Titanic disaster is being reopened after a £400,000 refurbishment to mark the centenary of the ship's sinking.
A service to commemorate Titanic's chief telegraphic officer, Jack Phillips, will be held at the memorial in Godalming on Sunday.
The Philips Memorial Cloister opened on 15 April 1914, on the second anniversary of the sinking.
Phillips perished after staying at his post until his equipment failed.
His last message was picked up by another ship, the Virginia, at 02:17, three minutes before the stern of Titanic sank.
"Jack was a really important character and someone we have to look up to," said Nick Baxter, spokesman for Waverley Borough Council.
"He died at his post and because of him over 700 people lived."
Phillips was born and grew up above the shop where his father worked in Farncombe, near Godalming, and his first job was at the local post office, where he learnt Morse code, before moving on to Marconi.
The memorial cloister has been refurbished in time for the centenary of the disaster with funding from the National Lottery and the borough council.
Flowers have been laid at the cloister with the message TUOMGN, which was used by Marconi operators as a sign-off, meaning "thank you old man, good night".
An Edwardian picnic and hog roast is to be held at Phillips Memorial Park following Sunday's service, with participants invited to dress in period costume.
Phillips is also being remembered at the pub in Godalming High Street which bears his name.
Posters all round the pub carry the names of the 705 survivors and 1,500 who died 100 years ago.
"Jack was the local hero in town and he is part of our heritage," said manager Karen Blaney.