Surrey Police patrol Woking polling stations amid fraud fears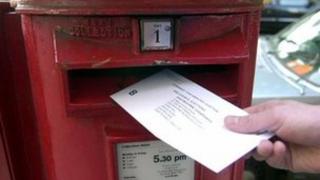 Measures to prevent electoral fraud in Woking will see uniformed police at the borough's polling stations this year.
Surrey Police said the action was being taken after claims of fraud were made last year, but officers found no evidence to take the claims further.
Uniformed police will visit polling stations as voting takes place on 3 May and officers will also be present at the count.
Woking council said it fully supported the action being taken by police.
Ch Supt Gavin Stephens said: "Allegations of electoral fraud are taken extremely seriously."
He added: "It is important that people can vote with confidence and we will be working hard to ensure that the integrity of the electoral system is not undermined."
Postal vote security
He said officers would be at the count to prevent, deter and detect any offences.
Postal voters were being urged to post their ballot papers themselves rather than pass them on to anyone else.
If postal voters had not posted their ballot papers by polling day they should take their envelopes to the Civic Offices or to a polling station by 22:00 BST, he said.
Officers would be making home visits to addresses with multiple postal vote registrations, he added.
And leaflets had been distributed in the area outlining what would constitute an electoral offence.
Ray Morgan, returning officer for Woking Borough Council, said: "All electors have a right to cast their vote in secret, without interference from anyone else.
"We fully support Surrey Police in its investigation of electoral misconduct and prosecution of offenders."
Anyone who suspects electoral fraud is urged to contact Surrey Police or Crimestoppers.