Alert as Surrey and London see whooping cough cases rise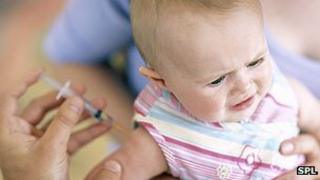 Parents have been urged to ensure children's vaccinations are up to date after a rise in whooping cough cases.
Epsom and St Helier NHS Trust said Surrey saw 25 cases between January and March this year, compared with three in the same period last year.
The trust which has hospitals in Surrey and London said 28 cases had been confirmed south west London so far this year, compared with two last year.
The NHS said whooping cough could lead to pneumonia and seizures.
It also said that in very rare cases the illness could prove fatal.
'Gasping for breath'
Dr John Clark, consultant microbiologist, said: "Whooping cough, which is sometimes called the 100-day cough, is a very unpleasant illness and I would urge anyone who is showing symptoms to book an appointment with their GP."
He said prevention was always better than cure and he asked local parents to check their children had been vaccinated.
Whooping cough, also known as pertussis, can affect people of all ages, but is most common in children under five with babies younger than four months at greatest risk.
The illness causes intense coughing fits followed by a gasping for breath that makes the characteristic "whoop" sound.
Anyone who thinks their child could have whooping cough has been advised to see their GP or seek urgent medical advice if their child goes blue during coughing or seems particularly unwell.