London 2012: Children form human logo in sports field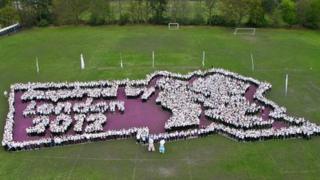 More than 2,000 Surrey schoolchildren have formed a human London 2012 Olympic logo on a sports field in Camberley.
The children were joined by Olympic rower Debbie Flood, GB Olympic trampoline hopeful Amanda Parker and 1948 torchbearer Austin Playfoot.
The logo covered 2,152 sq yd (1,800 sq m) and was created at Collingwood College to celebrate the P&G Surrey School Games, which runs until June.
More than 150 events are being held to encourage participation in sport.
"Thousands of children created a slice of Olympic history right here in Surrey," said Helyn Clack, Surrey County Council's Cabinet Member for Community Services and the 2012 Games.
"It's going to be the most exciting year of sport this country has ever seen and events like this encourage more young people to get active.
"It may even inspire the next generation of Olympic and Paralympic athletes."
The logo spectators also saw a demonstration by Camberley Judo Club, a gymnastics exhibition by college students and a display of 50 flags made by children.
Surrey is hosting the men's and women's Olympic cycling road race events, on the opening weekend of the Games on 28 and 29 July, and the Olympic road cycling time trials on 1 August.