Surrey police dog trials show Olympic security skills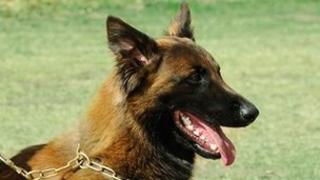 Police dogs and their handlers have been showing off skills they will use as part of security for the Olympics.
Visitors were invited into Surrey Police's HQ to see the last day of the National Police Dog Trials 2012.
Surrey Police said people would be able to see the dogs testing their agility, crowd control, chasing and detaining.
The force said it would show the dogs' role in helping secure the Olympics - billed as the largest peacetime security operation the UK has managed.
The National Police Dog Trials, a three-day event, started at the force's headquarters in Mount Browne, Guildford, on Friday, and an open day was held for the public on Sunday.
Surrey Police entered two dogs in the trials - Apollo with his handler PC Rob Male, and Allie with her handler PC Simon Boylett.
The event has been held since 1963 and Surrey Police last hosted it in 2007.
The earliest record of dogs being used by Surrey Police was in World War I when a prisoner-of-war camp was established in Frimley, and police in Camberley used three bloodhounds to track escaped prisoners, a spokesman said.
Surrey Police now runs one of the biggest police dog training schools in the country.