Lingfield villagers seek plastic bag-free zone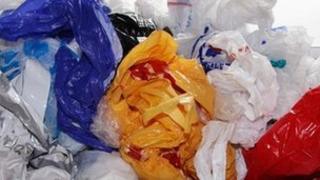 Campaigners in Surrey are hoping to turn their village into a plastic bag-free zone after volunteers cleared rubbish from one alleyway.
Lingfield Parish Council wants to encourage shoppers to swap to reusable bags to protect the environment.
"What we are trying to do is educate people to have an eco-bag to bring with them," said chairman Chris D'Avray.
He said the council had an idea to get local schoolchildren to design reusable bags to sell in the village shops.
"About 15 of us cleared something like 25 huge plastic sacks of rubbish from a little twitten passageway that goes from The Star pub to the railway station," he said.
"It motivated us to think let's try and reduce the plastic bags in the village.
"They just sit in our hedgerows and litter the area and they are a bit of a pain."
He said plastic bags would not be banned, but the council hoped to educate families through the children.
"It is just a way of reducing the huge impact these plastic bags have around the community."