London 2012: Road race tickets sales date revealed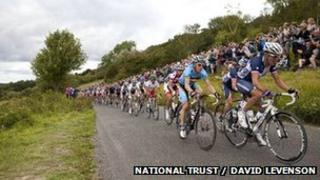 Tickets for the Olympic cycling road race through Surrey are to go on sale from 29 May, Locog has announced.
About 15,000 spectators are expected in the area around Box Hill for the men's and women's events.
The road race includes a 9.6-mile (15.5km) circuit around Box Hill with the men's event taking place 28 July and the women's on 29 July.
Tickets will cost £15, and £5 for children and seniors, for the viewing area at Donkey Green.
For the viewing area at Dormouse Drive, the price will be £10 and £5 for children and seniors.
The race finishes in The Mall in central London.