Gas facility which 'stops' Diamond Jubilee party meeting planned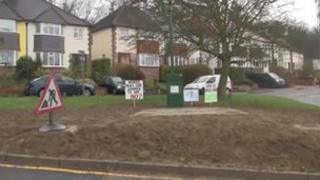 Residents who claim a gas facility built on a green will stop them hosting a Diamond Jubilee party there are to voice their concerns at a meeting.
The facility in Johnsdale, Oxted, was installed by Southern Gas Networks in December.
Residents said there was no consultation and plans to use the green as part of their jubilee celebrations have been shelved.
Surrey County Council said it would meet with the energy company on Thursday.
The facility, which consists of a large slab of concrete, a flue pipe and a control box, is intended to regulate gas supply in the area.
'Not safe'
Resident Helen Wallace said: "Years ago for the coronation they had a wonderful party here and used the green for that - we were really hoping to carry on the tradition.
"We can't put any children's games or a bouncy castle or anything else on the green now because it is just not safe."
A spokesman for Surrey County Council said it would like the gas facility to be removed and is meeting with the energy company on Thursday.
Laura Varney from Southern Gas Networks said the company would not pre-empt the meeting but is hoping for a "positive outcome".