Row over 'Diamond Jubilee' green: Gas facility's future unclear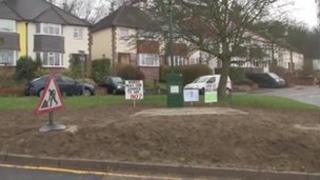 The future of a gas facility built on a green which residents claim will stop them celebrating the Diamond Jubilee remains unclear following a meeting.
The facility in Johnsdale, Oxted, was installed by Southern Gas Networks (SGN) in December.
Residents were forced to shelve plans to use the green for a jubilee party.
Surrey County Council held a meeting with SGN to solve the problem, but said there were "legal issues" surrounding original consent for its installation.
The facility, which is called a "gas governor" and consists of a large slab of concrete, a flue pipe and a control box, is intended to regulate gas supply in the area.
The green was used to celebrate the Queen's coronation and residents had planned to use it for this year's Diamond Jubilee.
'Legal issues'
A spokeswoman for Surrey County Council said the authority would like to see the facility moved.
"As there are some legal issues between us and SGN regarding the consents required to install this apparatus on highway land, it would be inappropriate to comment on specifics," she said.
"However, we did reiterate at the meeting our commitment to helping SGN find an alternative and more appropriate location for the gas governor, so that the local residents can have their green back."
A spokeswoman for SGN said: "We had a constructive meeting yesterday and are currently reviewing our response, we will issue a statement in due course."