Motorcyclist shot with air weapon in Walton-on-Thames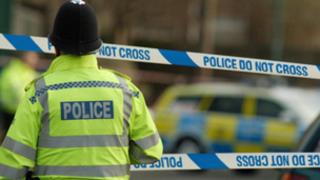 A motorcyclist has been shot with an air weapon after leaving a barbers in Walton-on-Thames.
Police said the 26-year-old victim had been targeted after leaving the shop, named Sopranos.
His motorcycle helmet was hit and then he was shot in the groin in the attack in Terrace Road on Saturday afternoon.
Det Con John Hobbs said: "I cannot stress enough how dangerous it is to fire BB guns or any other type of air weapon in a public place."
'Seen something'
Police believe the shooting was witnessed and are appealing for information from people who may have seen or heard something in the Terrace Road area between 17:00 and 18:00 BST.
Det Con Hobbs said: "The assault took place in broad daylight in a busy street so I feel certain that other pedestrians or motorists passing through the area would have seen something out of the ordinary.
"Fortunately the victim sustained only minor injuries on this occasion, but it's clear that such irresponsible actions could easily have had a more serious outcome."
Police say the man was treated at St Peter's Hospital, Chertsey, for bruising to his upper legs.