Diamond Jubilee: Godalming sports carnival held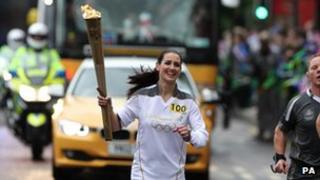 Thousands of people have turned out on the streets of a Surrey town as an Olympic-themed carnival and town show kicked off celebrations to mark the Queen's Diamond Jubilee.
Godalming Round Table stages a carnival every year, but this year's event was eight months in the planning and organisers said they had been staggered by the huge interest in the Diamond Jubilee event.
Town show chairman Woody Williams estimated the Jubilee show, with stalls and performances on The Burys field, was up to 50% bigger than usual.
He said the number of carnival floats had doubled and up to 375 participants took part in the parade.
Between 3,000 and 4,000 people were expected to attend the show between midday and 18:00 BST, he added.
Planning started in October and this year organisers had more applications for the carnival by Christmas than in the whole of the previous year.
This year's carnival was also given a sports theme to tie in with London 2012, he said.
A big highlight was the drumming band playing Batala, or samba-based percussion, at the front of the carnival, providing "real, proper beats for marching", he added.
Royal visit
The Midlands-based Kangaroo Gymnastics Team - a group of about 40 teenage boys - also gave a performance in the town show arena.
Mr Williams said a Land Rover Discovery was parked in the field and the gymnasts vaulted and somersaulted over the vehicle.
The town will also be visited on Monday by the Earl and Countess of Wessex.
Louise Goodfellow, Godalming Town Council clerk, said a sports theme kicked in during the weekend because people were already geared up for the Torch Relay which passes through the town on 20 July.
She said the sports theme sprung up organically to celebrate the Torch Relay, rather than as a result of any deliberate planning.
The Eden Project's Big Jubilee Lunch is being held at the Phillips Memorial Park on Sunday.
Music concerts are being staged in the park on Monday and a torch-lit procession will be held before the lighting of the Jubilee Beacon and fireworks later that evening.