Woking Palace attacked by arsonists for a second time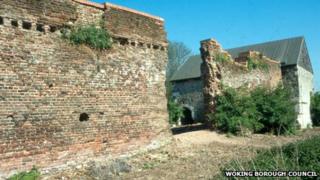 Arsonists have attacked a historical ruin in Surrey for a second time.
Woking Palace, in Carters Lane, Old Woking first suffered damage on 6 April, according to Surrey Police.
In the latest attack arsonists set fire to litter outside the metal door of the monument, causing about £1,000 of damage.
Police said: "This is the second time Woking Palace has been damaged as a result of mindless acts of vandalism."
'Specialist site'
During the Tudor period, Woking Palace was an important residence. Henry VIII spent considerable sums of money on Woking during his reign.
Now all that remains are a few brick walls, a small stone building and a network of buried foundations. However, the palace been designated as a Scheduled Ancient Monument and a Site of Special Scientific Interest.
Officers are unsure of the date of the second attack which took place between 6 April and 1 June and are appealing for information.
Det Cons Kerry Whindle said: "This site is of enormous historical and cultural interest and Surrey Police will not tolerate this wanton damage against such a specialist site in the borough."
Visitors can view the palace on special open days organised by Friends of Woking Palace.