Surrey Roman snail poachers 'could wipe out species'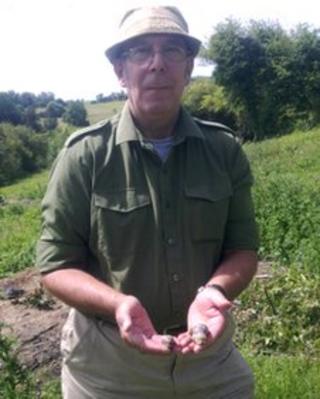 So many rare snails are being poached from a protected site in Surrey that conservationists fear the population could be wiped out.
Roman snails are protected under the Wildlife and Countryside Act, but volunteers at Chipstead Downs have caught people taking the snails.
They believe the stolen snails were destined to be consumed as "escargot" in the restaurant trade.
Andy Keay recently caught a man with two bags full of the snails.
Mr Keay, a member of Woodchip Conservation, said: "We caught the last offender with two bagfuls of Roman snails - probably close to 15kg (33lb) in weight. So you can imagine how many snails he had - several hundred."
Area 'stripped'
The Roman snail is the largest species of land snail in the UK, about 2in (5cm) in diameter, and it can live for up to 20 years if undisturbed.
It is thought the Romans introduced the snails to the UK as a food source, hence the name, but people tend not to eat them, which is why they thrive.
Mr Keay said: "They are very big and on the continent they are the one species that the continentals love eating.
"So we have good very good populations, whereas in their natural countryside in France, Germany, Italy, Spain, they've been eaten out."
According to Mr Keay, the Roman snail is found across the UK from the cliffs of Dover through to Gloucestershire in small colonies.
However, the site on Chipstead Downs is a "bastion" for the species, which is probably why it is being targeted by snail poachers.
"After we caught the chap stealing them we returned those snails to the site, but obviously somebody else has been back in because this area has now been stripped of the Roman snails," he said.