Guildford Cathedral dean given University of Surrey doctorate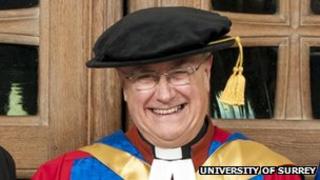 The dean of Guildford Cathedral has been awarded an honorary doctorate by the University of Surrey.
The Very Reverend Victor Stock has held the position for 10 years and is due to retire at the end of July.
Guildford Cathedral has close links with the university and provided land for it to be built on.
The dean, who was first ordained in 1970, was presented with the degree at a ceremony at the cathedral attended by actress Penelope Keith.
The university's Jewish chaplain, Alex Goldberg, said: "Victor has been a great supporter of the University of Surrey.
"He has championed our proposed multi-faith centre and gave us an opportunity to present the project to the Queen."