BB gun found at scene of Woking police shooting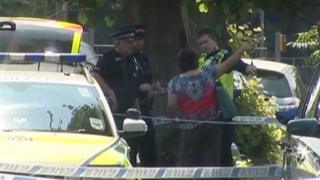 A weapon found at the scene after a man was shot by police officers in Surrey has been identified as a 6mm BB gun, investigators said.
The gun, painted black, was found in Woking following the shooting just after 22:00 BST on Wednesday.
The shot man, who is in his 40s, is in a stable condition at St George's Hospital in Tooting, south London.
The Independent Police Complaints Commission (IPCC) said one round was fired by one police officer.
Surrey Police said an armed unit was sent to Oak Tree Road, Knaphill, following reports that a man was armed and intended to hurt himself and others. He was shot at the scene.
Nearby homes were evacuated after concerns an explosive device was planted at the address, but a bomb disposal team found nothing.
Forensic work
Another man in his 30s was arrested and remains in custody. Police have said they are not looking for anyone else in connection with the incident.
The IPCC said the incident was referred to its investigators in the early hours of Thursday. They attended the scene immediately.
"Further forensic work is being carried out on the weapon and IPCC investigators have supervised house-to-house inquiries in the local area," it said in a statement.
"Our inquiry, which is in the very early stages, will be a thorough investigation scrutinising all of the circumstances surrounding the police actions and decisions leading from initial 999 calls made earlier in the evening up to the shooting."
It said an IPCC family liaison officer had made contact with the injured man to explain its role.