Francoise Jansen torture attack: Police appeal to criminals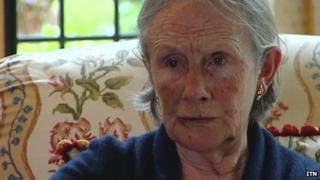 An attack on a 73-year-old woman during a robbery at her Surrey home was so horrific police are hoping the criminal world will turn in those responsible.
Francoise Jansen was gagged, water-boarded and had boiling water thrown over her in the attack in St George's Hill, Weybridge.
She escaped after biting through electrical cables used to tie her wrists to a radiator.
Describing her two attackers, she said: "They are evil - so cruel."
The attackers wore balaclavas, dark clothing and gloves, during the robbery, which took place between 22:50 BST on Friday and the early hours of Saturday,
'Sheer hell'
Mrs Jansen said: "One went behind the chair and held my mouth and the other one took me by my arms.
"They said, 'we know you've got money in there [a safe] and have you got any grandchildren?'
"I said, 'yes I've got 10', and they said, 'they're going to be sorry then because if you don't help, you will die'."
They forced her to open a safe and stole jewellery but when she said she had no other valuables they did not believe her.
They dragged her upstairs, poured boiling water over her arm and then subjected her to water boarding in an attempt to force her to open a second safe, which she was unable to do as she could not remember how to.
She said: "They held the shower to my face and I thought I was being drowned. They had tied my hands behind my back."
Jewellery haul
After her attackers eventually left it took nearly an hour for Mrs Jansen to bite through the electrical cables.
She said: "My lips started to bleed because of it. I was determined because I was frightened they would come back again."
Supt Mark Preston, of Surrey Police, said other other criminals would view the burglars' actions as cowardly.
He said: "What type of man would subject a 73-year-old woman to this type of attack?"
Mr Preston said the robbery was "sheer hell" for Mrs Jansen.
"It was only that she managed to free herself and alert local security on the estate that we got to her, fortunately before she suffered injuries that were too severe," he said.
Mr Preston said Mrs Jansen had undergone a "shocking experience".
"We do know the two men were dressed in dark clothing and wearing balaclavas and gloves. We suspect there was a vehicle fairly nearby although we have no description of that."
Officers are also working closely with second-hand jewellery outlets in case they are offered items from the haul of expensive jewellery taken after Mrs Jansen was forced to open the safe.
Mr Preston said Mrs Jansen was recovering "remarkably well" from her injuries.
"She is a very resilient lady and we wish her the best for her recovery," he said.