New Zealand Olympic team visits Surrey Maori meeting house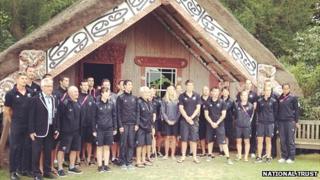 The New Zealand Olympic team has visited a sacred Maori meeting house in a Surrey park.
The house, called Hinemihi, is situated in Clandon Park, near Guildford.
The Olympic team's visit was organised to try to raise public awareness of the house, which is the only one of its kind in the UK but is in need of some restoration work.
Louise Trappitt, who was part of the women's quad rowing team, said: "It's really cool, quite amazing."
A traditional Maori welcoming ceremony was performed by members of the UK Maori community of Ngati Ranana London Maori Club and the New Zealand tribe Ngati Hinemihi.
Miss Trappitt, who finished seventh in her team event, said: "Maori culture is deeply involved in New Zealand culture, it's a part of it, so it's like coming home, to come to places like this."
Hinemihi was brought to Surrey by Lord Onslow, the former Governor of New Zealand, as a souvenir of his term in 1892.
It had been buried under the ash of an erupting volcano, Mount Tarawera, in New Zealand for five years before being unearthed and transported to Lord Onslow's family estate at Clandon Park.
Now Hinemihi has been adopted as a meeting house for the Maori community in the area.
James Shuster, who is from the Ngati Hinemihi tribe which once owned the house, said: "It saved my ancestors lives after the eruption of Mount Turawara.
"If it wasn't for this house I wouldn't be here. My great great grandfather and his wife and their daughter sheltered in the house on the night of the eruption.
"For many UK-based New Zealanders she provides a welcome link to home and heritage.
"But there are many more people who are sadly unaware that she is there. The visit of the Olympic team will bring Hinemihi to wider attention and help more people re-connect with their culture."
The house is now owned by the National Trust which is working on a project to transform Hinemihi into a community resource.
Julie Lawlor, National Trust property manager, said: "She definitely needs a new roof and conservation work done, but if there is enough interest she can be transformed into a working meeting house.
"Hinemihi provides a unique opportunity for visitors to learn not just about Maori and New Zealand culture, but also about the links between the UK and New Zealand."