Mongolian Paralympic archers train in Haslemere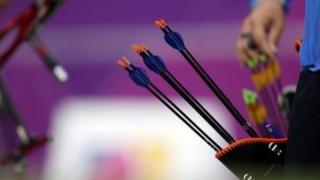 Two Paralympic archers from Mongolia will begin training at a Surrey leisure centre on Friday.
The two women, Natjav Dariimaa and Byambasuren Javzmaa, will be preparing for the London 2012 Paralympic Archery competition in Haslemere.
Waverley councillor Julia Potts, cabinet spokesman for leisure, said she hoped it would inspire residents of all ages to pick up a bow and arrow.
The two athletes will be based at The Edge Leisure Centre until 24 August.
Both archers will be training alongside their coach ahead of the competition.
Open training session
Ms Potts said the Edge Leisure Centre had been accredited by London 2012 organiser Locog for a range of Paralympic sports, including archery, table tennis, volleyball and wheelchair basketball.
Across the county, Surrey County Council organised 30 pre-Games training camps for Olympic and Paralympic teams from around the world.
Waverley council said the archery team had expressed a desire to interact with the local community, and there were plans for an open training session to be held which could be viewed by schools and residents.
The London 2012 Paralympic Archery competition takes place between 30 August and 5 September.