Shepperton church seeks funds to repair crumbling wall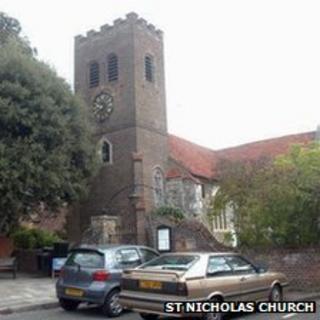 A church which has served a community in Surrey for 400 years is at risk of collapse if money is not raised to stop one of its walls from crumbling.
Up to £80,000 is needed for the work on the south transept of St Nicholas Church in Shepperton.
Warden Howard Watson said the discovery that one of the walls was sinking was made during exploratory digging ahead of some planned refurbishment work.
He said the remedial work would have to be carried out within the next year.
A church has stood on the site since the 7th Century and the existing building is Grade I-listed.
Mr Watson said: "It's not going to collapse at any moment... but further [planned] work will have to wait."
'Picturesque church'
The refurbishment, which will cost about £90,000, had been planned to install new lighting and generally improve the inside of the church.
"The discovery about the transept has eclipsed this by a long way," Mr Watson added.
The church, which currently has about £15,000 to put towards the repairs, has a gift day next month in which members of the congregation will be asked to donate cash.
It is also planning a number of fundraising events and seeking help from local residents and businesses.
"It's in a picturesque setting...there is quite a lot of support from people who don't necessarily attend our church but don't want to see the demise of the building," Mr Watson said.