Cuckoo released after BA flight to Italy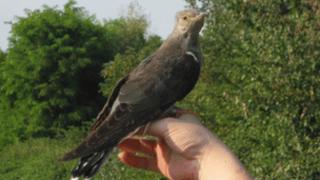 An injured cuckoo flown to Italy by plane to "catch up" on its migration after treatment has been successfully released to join its fellow birds.
It was released at a wetland centre in Turin where three cuckoos fitted with satellite tags in the UK were spotted.
Surrey veterinary nurse Lucy Kells, who carried the bird on the British Airways 737, said it was a "goose bump moment".
The cuckoo named Idemili took a month to recover from serious head and wing injuries after other birds attacked it.
Ms Kells, the hospital manager at Leatherhead's Wildlife Aid Foundation (WAF), said she "cried her eyes out" when the bird finally flew off from her hand.
"The release went beautifully, it was a really amazing day. She sat on my hand for ages then flew off straight to a big tree. When we wandered over we saw it was covered in caterpillars.
"She then called for the first time. We'd had her in a month and she never made a sound... it was one of those really emotional, unrealistic moments.
"It was a goose bump moment, it was an amazing feeling. I was crying my eyes out.
"I did get really attached to her, she was one of the most tolerant patients I've had."
Idemili, who was found in Tolworth, south-west London, is named after a river goddess in Nigeria where she and other cuckoos gathered last winter.
She is the only female ever fitted with a satellite tag by the British Trust for Ornithology.
The organisation's cuckoo tracking project allows experts to keep tabs via satellite on the general location of the tagged cuckoos as they continue their long winter migration to Africa.
Half of the UK's breeding cuckoos have been lost in the past 25 years and the species is "red listed", meaning its survival is at risk.