Escort Natalia Woolley 'had holiday after Epsom murder'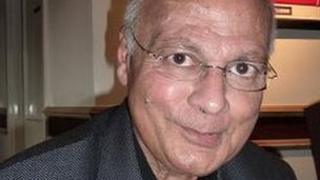 A Russian prostitute went on holiday and visited her daughter in Russia after killing her Surrey client, Guildford Crown Court has heard.
Natalia Woolley, 38, of West Kensington, London, denies murdering Winston Fernandez, 69, at his home in Epsom, in January.
Jurors were told Miss Woolley visited Tenerife and Russia before she returned to the UK and was arrested.
Giving evidence, Miss Woolley said she had been trying to fight him off.
'Trying to escape'
Mr Fernandez, an alcoholic with health problems, was found nearly a month after his death after a neighbour contacted police.
It is claimed Miss Woolley, of Baron's Court Road, fractured 17 ribs and broke his larynx in two places at his home in Longdown Lane North.
Miss Woolley told police Mr Fernandez locked her in his house, demanded she perform oral sex on him and other acts, and attacked her by pinning her down and grabbing her legs, jurors heard.
In a police interview read to the court, Miss Woolley also said she slipped and landed on Mr Fernandez after he lifted his head as he lay on the floor.
She told the court: "He was so aggressive when he started to behave in that way.
"I couldn't see a way out. He didn't let me out. He started to grab my legs. I don't know, I just wanted to get away from him."
'Dangerous and drunk'
Defending, David Lederman QC asked if she was trying to escape.
Miss Woolley said: "Yes. He was dangerous. I couldn't understand what he was doing. He was not in a normal state."
She added: "He was drunk. I had to leave from there. I just wanted to go."
She told the court: "We were standing in the bedroom and I said you have to let me out.
"I screamed as I know he was ashamed with his neighbours. I felt something heavy on the back of my head.
"His eyes were so crazy. He started kicking things on the floor and tripped over."
She said she began kicking Mr Fernandez after he grabbed her legs as he lay on the floor of the bedroom.
Prosecuting, William Saunders asked her how Mr Fernandez had deep bruising to his abdomen.
Miss Woolley replied: "I was scared. I was afraid. I had in my head that I had to get out and that something really bad could happen to me.
"I just wanted to get out of the room so probably my boot connected with him."
When asked why she cut two phone lines before she left the property, she replied: "I was in a panic. I was stressed. I can't exactly remember when it happened.
"I was shocked and stressed. I was nervous. That is why I cut the cord."
Mr Saunders accused her of cutting the phone lines as an act of "temper, rage, revenge" and said Mr Fernandez was "a man you could knock over with a feather".
He asked Miss Woolley why she did not call for an ambulance, and she said: "I didn't see any injuries on him. Why should I think about it?"
'Delete texts request'
Jurors heard Miss Woolley repeatedly asked her friend Kevin Markey to call Mr Fernandez's home in the days after the incident on 16 January.
The court heard Miss Woolley also asked some of her clients to drive her to Epsom.
One client refused to get involved after she told him she needed "to see if someone was alive", the jury heard.
But another man did agree to drive her there on 22 January, the court was told.
Jurors heard Miss Woolley asked Mr Markey to delete text and Skype messages they exchanged, and she also called her mobile phone provider to ask if her smart phone could be traced.
In court, when asked why she requested Mr Markey to delete messages, Miss Woolley said: "If I worried about this I would have probably deleted all my text messages and all my messages on Skype."
The case continues.