Godalming Leisure Centre car park demand grows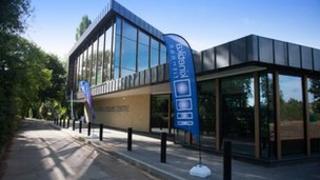 Construction of a car park for a Surrey leisure centre could begin in the next few weeks after membership soared in the centre's first month of operation.
Figures showed the number of swimmers increased by 157% at Godalming's new leisure centre during August 2012, compared with figures for August 2011.
Statistics showed numbers of exercise class participants rose by 128%.
Waverley council has now decided work on a new car park should start as soon as a lease for the land is agreed.
Councillor Julia Potts, cabinet leisure spokeswoman, said it was envisaged this would be in the next month.
'Quick negotiations'
She said the popularity of the centre had highlighted the need for the new car park which was always going to be introduced as soon as possible.
The statistics also said numbers of families using the new 25-metre and learner pools had risen by 707%, and the number of youngsters swimming had jumped from 1,530 to 3,405.
Ms Potts added that the land was currently part of the Broadwater School site and Waverley council had worked as quickly as possible to negotiate a lease with Surrey County Council.
The new centre was built next to the town's old leisure centre which was demolished during the project. The new site opened on 30 July.