Abbot's Hospital stained glass repairs get cash boost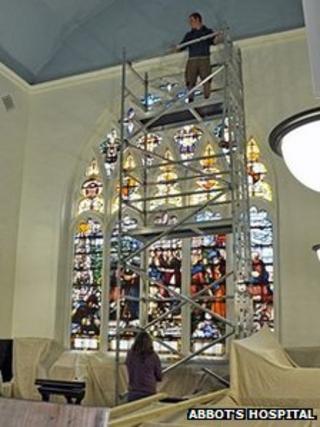 Restoration of 17th Century stained glass windows at a Grade I listed almshouse in Surrey has received a £16,000 cash boost.
Abbot's Hospital in Guildford said work to repair its chapel windows was under way and it was hoped the glass would be back in place for Christmas services.
The building, run as a charity, still offers accommodation to up to 26 local, elderly people.
The cash grant was allocated by the Sita Trust.
Tony Richmond, Master of Abbot's Hospital, said it had helped to pay for the first major work on the windows for more than a century.
'Traditional kiln firing'
He said specialists found that urgent repairs were needed earlier this year.
Several panels have been removed so missing areas can be filled in using traditional methods of kiln firing and enamel painting.
The windows, which date back to 1621, were commissioned by almshouse founder George Abbot, Archbishop of Canterbury, and show the Biblical story of Jacob and Esau.
They are thought to be the finest surviving examples of work by 17th Century Flemish glaziers, Abraham and Bernard Van Linge.
Mr Richmond said the chapel was still used regularly by Guildford residents and town centre groups and was visited by tourists from across the world.