Sunbury asbestos waste transfer plan opposed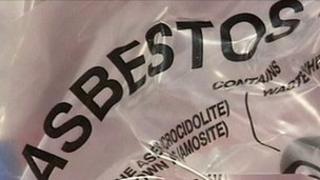 Residents fighting a planned asbestos waste transfer station in Surrey have started a petition amid claims the "deadly substance" will pose a danger.
Campaigner Bernie Spoor said local parents had serious concerns about the plans for Windmill Road, Sunbury, a residential area with five schools.
The firm behind the plans, European Asbestos Services (EAS), said all asbestos work was strictly controlled.
It said there was no danger and no risk to the local population.
'Hidden killer'
Mr Spoor said: "Parents with children in local schools are seriously concerned with any outfall of this deadly substance, especially as the damage that could be caused would not be identified for 20 or more years."
He said there were more than 1,000 homes within 0.6 miles (1km) of the site.
The petition, signed by more than 100 residents, said the station would hold damaged and degrading asbestos, a "hidden killer" that could cause serious diseases and lung cancer.
Danny Spillane, operations director at EAS, based in Windmill Road, said: "We are a licensed company working in a highly-regulated industry."
Nothing 'untoward'
He added: "It's not a case we are going to be doing anything untoward or risk the local population. We are based here ourselves."
Mr Spillane said the site would be used as a "storage area".
Surrey County Council, which decides waste and minerals plans across the county, said: "It would be inappropriate for us to comment further at this time, as this could be prejudicial to the outcome."
EAS has applied to change the use of the site from light industrial to an asbestos waste transfer station, which would cover the importation, storage and transfer of asbestos and the provision of two sealed, lockable containers.
The plans can be viewed on Spelthorne council's website.