Surrey campaign to cut deaths from cold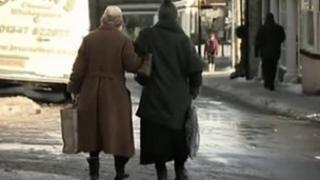 A campaign is under way in Surrey to cut the number of elderly people who die from the cold each winter.
The Community Foundation for Surrey said more than 550 deaths in the county were attributable to the cold last year, the majority among the elderly.
The charity said that although Surrey was seen as an affluent county, there were surprising levels of hidden deprivation and real need.
Executive director Wendy Varcoe said heating costs were a problem.
"We all feel that Surrey is a great place to live but for many elderly and vulnerable people winter is really dangerous time," she said.
"People are really struggling to heat their homes. The other problem is that elderly people become quite isolated in the winter.
"The combination of the two can impact on health, lead to hospital admissions and potentially to death."
Befriending scheme
The charity is encouraging older residents who can afford it to donate their Winter Fuel Allowance to support more vulnerable people in Surrey.
Last year it raised more than £10,000, which was awarded in grants to organisations such as Age Concern Surrey Heath to provide a volunteer befriending scheme.
Reigate and Redhill Live at Home Scheme was also awarded a grant to support a day centre in Horley providing activities and a hot meal to older people.
Manager Tanya Stafford said it was a sad fact that people were dying in Surrey because of cold and isolation.
"We have been going for about 14 years and we have a very healthy membership of 128 members and a fantastic family of about 111 volunteers," she said.
"We are not there to change people's lives, we are there to enhance them, like a social network.