Guildford junction changes a 'success'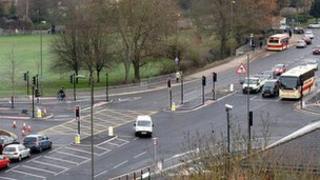 Changes at a major junction in Surrey, where users reported "traffic jams from hell", have been hailed a success.
The University of Surrey said replacing a roundabout near the A3 with traffic lights had shaved 35 minutes off peak time journeys through west Guildford.
The university, sited off the junction, paid £2.5m towards the cost, with Surrey County Council contributing £2m.
The county council said the improvement was a hugely important scheme which would help local businesses.
The new lights were switched on last week after months of road works, which drivers said left them in traffic jams from hell and threatened local firms.
More than 140 businesses are accessed from the junction at Surrey Research Park, with Surrey Sports Park and Royal Surrey County Hospital nearby.
The Royal Surrey had warned patients to allow extra time to get to appointments during the works.
"The turning on of the junction lights has provided a little piece of goodwill just before Christmas for the companies on the Surrey Research Park," said director Dr Malcolm Parry.
"They have faced delays for the last four years while the research park team designed the project and worked with Surrey County Council to gain the investment needed for work to begin.
"We've already received some great feedback from the park tenants and we're delighted that the project has already been deemed a success and will continue to improve people's commute to and from the park."