Sean Vatcher recalls Bosnia death of Collette Webster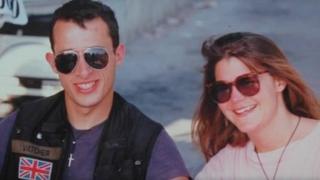 A fireman from Surrey has returned to the site in Bosnia where nearly 20 years ago he witnessed the death of his American girlfriend in a rocket-propelled grenade blast.
Sean Vatcher, 46, from Lingfield, had travelled to the region as the former Yugoslavia collapsed and fell into civil war, to pursue his dream of becoming a photo-journalist.
While there, he met and fell in love with aid worker Collette Webster.
The 27-year-old had seen what was happening in Bosnia on the television news and had decided that she wanted to do something to help the refugees.
'Thousandth of a second'
During their five months together, the couple became inseparable as they were drawn deeper into the Bosnian conflict and on to the front line.
On 27 September 1993, they had climbed to the top floor of a bombed-out apartment building in the divided city of Mostar, where they could look out over the front line and the destruction of East Mostar.
Visiting the room they were in that day, Mr Vatcher recalled how he saw "a muzzle flash from the boulevard below".
"Within a thousandth of a second a rocket came through between the two of us and exploded in the wall above us," he said.
Ms Webster suffered shrapnel wounds to her abdomen and right forearm and died a few hours later in hospital.
She was the 348th victim to die in West Mostar that year, but the first US citizen to die in the Bosnian war.
Sitting outside the apartment building where she was fatally injured, Mr Vatcher told BBC Inside Out South East: "That particular day, had we not brought her she might be sitting here with us now reminiscing about the war, and obviously we haven't got that to share.
"It's taken so long to get back, and I don't know when it's going to happen again."
Outside the building is a rundown children's playground, which Mr Vatcher plans to restore in her memory.