Surrey County Council 'not dodging democracy with tax rise'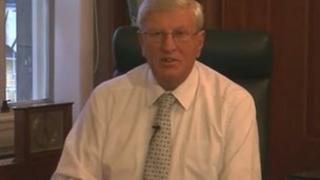 The leader of Surrey County Council has denied being a "democracy dodger" as the authority prepares to raise council tax for the second consecutive year.
The Tory-run authority plans to raise council tax by 1.99% - just below the 2% threshold at which a local referendum must be held.
Communities Secretary Eric Pickles has described councils imposing such rises as "democracy dodgers".
The council's Lib Dem leader Hazel Watson called for the tax to be frozen.
Council leader David Hodge said the authority conducted a face to face and online survey in which 701 residents were asked what they thought of council tax increases.
Of the 701 who took part, 58% said they would be willing to see a slight increase in council tax if current service levels were maintained and specific improvements made.
"I don't dodge democracy," said Mr Hodge.
"I do what is right for the people of Surrey.
"Boris Johnson said that now is the time for investing in the things that will help the economy to grow and support people in tough times.
Create apprenticeships
"That's what we need to do."
The proposed increase will bring the authority's portion of council tax for a band D property to £1,172.52 a year, a rise of 44p a week.
Mr Hodge said the increase would allow the council to spend £10m on raising school standards over five years, £25m on roads over five years and £11m on adult social care next year.
It would also spend £750,000 in grants to local employers to create 500 apprenticeships next year.
The government has said it wants council taxes to be frozen for a third year and that councils raising them by 2% or more must hold a public vote.
Mr Pickles said those putting them up by 1.99% were exploiting a loophole.
'Turn down money'
The council also defied the government last year by putting up council tax by 2.99%.
Ms Watson said: "Eric Pickles has offered councils the equivalent of a 1% council tax increase if they freeze council tax, and Surrey County Council should accept his offer.
"Surrey's Conservative leadership can't continually complain that the county gets an unfair deal from government, then turn down government money while hitting the pockets of local residents.
"The council has £135m in cash reserves, council officers have advised that could be decreased to £49m, meaning that £86m is available to protect services and freeze council tax."
The council's cabinet will discuss the increase on 5 February and it is expected to be rubber-stamped by the full council a week later.