Royal Holloway student attack 'not linked to muggings'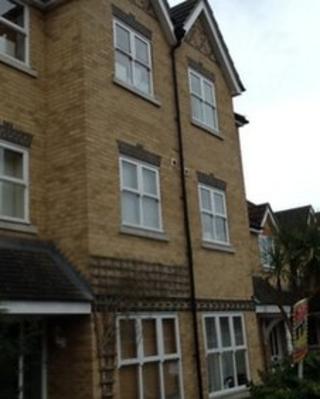 A burglary in which a student was hit with a gun was an isolated incident and should not be linked to a spate of street crimes, police have said.
The Royal Holloway University student, in his 20s, received a head injury in the burglary at a house in Egham, Surrey on Sunday.
Students have been the victims of a series of recent street robberies in Egham and Englefield Green.
But a police spokesman said the burglary was a much more serious crime.
Three men armed with a knife and a handgun forced their way into the house in Nightingale Shott, shared by six male students, about 01:35 GMT on Sunday.
They threatened the victim, who was alone in the property, before attacking him and stealing items including a laptop, jewellery and a passport.
As they escaped they used the gun to threaten other students who were returning to the house, telling them to get on the ground in the street with their hands behind their heads.
The injured student was taken to hospital with minor injuries but not detained.
Form of transport
Det Insp Andy Haslam said the robbers would have made a lot of noise and appealed to anyone who saw or heard anything out of the ordinary to come forward.
"I would be particularly keen to speak to anyone who saw where the men went immediately after the incident and if they had some form of transport," he said.
The police spokesman said students had been robbed of phones, cash and other items in the recent muggings.
Neighbourhood commander Roger Nield said police were working closely with Royal Holloway University.
"However, I would like to stress that at this stage the aggravated burglary is being treated as an isolated incident," he added.
"There have been no reports of any similar offences in Egham or Englefield Green over recent weeks but officers are keeping an open mind and any possible connections to other offences will be thoroughly investigated."