Shepperton Eco Park dispute leads to 'concession'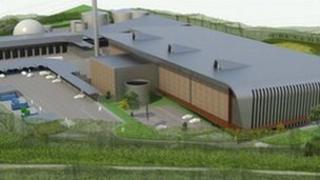 Plans for a disputed waste incinerator in Surrey will be changed and the firm behind the proposals will look at a new design, Spelthorne council has said.
The council, which had raised pollution fears, said Surrey County Council (SCC) and Sita had conceded in the dispute.
Sita's plans for the Shepperton Eco Park had been approved by SCC, but Spelthorne sought a judicial review.
SCC said changes in the plans were "simply about a change of supplier and possibly small changes of technology".
'Concession won'
Spelthorne Borough Council leader Robert Watts said: "Sita and the county council have confirmed that they intend to apply for a variation to the existing permit to allow for a new design of incinerator."
He said: "This is an important concession which the council has won from the Environment Agency, Surrey County Council and Sita."
Mr Watts said it followed Spelthorne's suggestion that they did not implement a plan to use gasifiers.
But an SCC spokesman said: "It is wrong to say that we will not be implementing the gasification technology. It is simply about a change of supplier and possibly small changes in the technology."
Gasification is a process by which household waste is turned into gas and burnt to provide electricity.
Minor changes
The SCC spokesman said an original supplier was no longer trading, and a replacement was being sought.
A new supplier would require minor changes to be made to the planning consent, and Sita would apply for variations in the planning agreement and the environmental permit, he added.
The plant, which will treat about 100,000 tonnes of waste each year, is being built in Charlton Lane and will be operated by Sita.
A spokeswoman for the Environment Agency, which issued a permit for the plant in October, said it had no comment.
Sita said a gasification facility remained a key component of the Eco Park.
"We are currently in the final stages of selecting a new supplier for the Eco Park's gasifier," it said in a statement.
"This follows the winding up of the company originally chosen to supply the gasifier and the time lapsed since the Eco Park was first planned."