Surrey Magna Carta visitor centre plan called off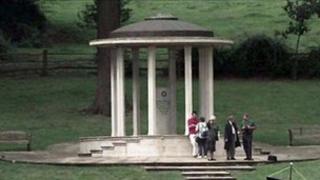 Plans to build an £8m visitor centre in Surrey on the site where the Magna Carta was sealed have been called off.
The centre had been planned to open near Runnymede Meadows, Egham, by 2015 to mark the Magna Carta's 800th year.
Runnymede council said required funding had not been secured in the desired timescale. It said it would develop other plans to mark the occasion.
Last month, Surrey County Council withdrew a £5m contribution amid doubts over the timescale and the site.
'Fitting tribute' planned
Runnymede council leader Patrick Roberts said: "Runnymede is very proud to have witnessed one of the most important events in British history.
"The visitor centre project would have provided a local educational legacy as well as a boost to the local economy, but unfortunately the required funding has not been secured in the desired timescales."
He said the council would now focus on ensuring there was still a fitting tribute to mark the anniversary, with final plans to be confirmed by the summer.
The loss of the £5m contribution was the second funding setback faced by Runnymede council.
Last year, Runnymede council applied for £3,843,000 from the Heritage Lottery Fund but the bid failed.