Leatherhead allotment site development sparks row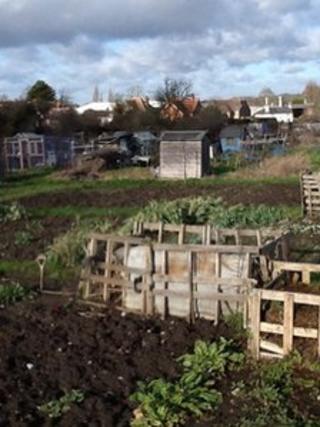 Housing, shops or a leisure complex could be built on top of allotments on land in Surrey.
Mole Valley District Council has put the site in Leatherhead up for sale and is looking for a developer.
The council said the Barnett Wood Lane Allotments would move to a site nearby.
But allotment holders who have set up a Facebook campaign opposing the plans said the alternative site being offered was too remote, too far away, too close to the M25 and has poor soil.
One allotment holder, who gave his name as Graham, told the BBC: "As far as I'm aware, it's never been cultivated. People down here have spent years digging in their fertilizers and manure, and it's just remote. It's right beside the motorway."
Councillor Charles Yarwood, portfolio holder for assets, said a developer would be required to relocate the allotments and ensure the new site provided improvements such as water supply throughout the site, increased and improved car parking, and security fencing.
He said the soil quality on the new site was not yet known but there had been a suggestion it had previously been used as arable land.
In terms of the location, he said some people could currently walk out of their garden onto their allotment and would be hardest-hit but others who lived further away would see no difference.
There are 103 plots at Barnett Wood Lane, a site owned by the council and Merton College, Oxford.