Surrey golf clubs told 'empty cabinets' amid thefts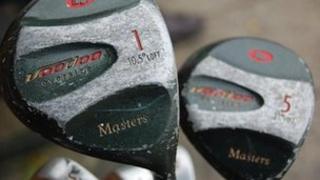 Golf clubs are being advised by Surrey Police to empty their trophy cabinets to avoid silverware being stolen.
Raids have been carried out at several clubs in the county since last August, including Farnham, Hindhead and Tandridge.
In the most recent incident at Bramley Golf Club, thieves took trophies worth thousands of pounds.
It was estimated that one trophy taken from Farnham last year would cost £100,000 to replace.
Club history 'priceless'
Det Con Dave Hull said officers were following up leads and would make arrests as soon as possible.
He said: "It is a sad state of affairs that the golf clubs may have to take these trophies out of the cabinets. But unfortunately with the price of scrap metal and precious metals at the moment, for an opportunist thief, a solid silver trophy makes a good taking."
He added: "It is especially sad because these golf trophies represent the histories of the clubs and often to the club members they are priceless and can't be replaced."
Det Con Hull said police were working with clubs to tighten security and find those responsible.
"We are following up some leads and we will look to bring these people in as soon as possible," he said.