Surrey County Council defies government over tax rise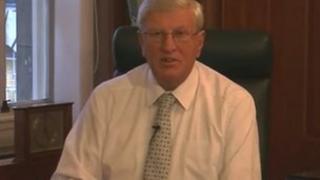 Surrey County Council has defied government advice to confirm an increase in council tax for 2013/14.
The Conservative-run authority rubber-stamped its cabinet's recommendation to raise the annual charge by 1.99%.
This is just below the 2% threshold at which a local referendum must be held.
Council leader David Hodge said the authority had to invest in the economy to help people through the recession, but the Lib Dems said the council could have used reserves to freeze charges.
The rise - which Mr Hodge said would add 44p a week to bills for Band D properties - will fund a number of projects to help improve roads, schools and adult social care as well as providing apprenticeships for 500 young people in the county.
Mr Hodge told councillors: "If we do not increase council tax by 1.99%... it will cripple Surrey finances in the future."
'Moral duty'
The decision to defy government advice to protect hard-pressed council-taxpayers by freezing bills or limiting the increase was criticised by some opposition councillors.
Hazel Watson, leader of the Liberal Democrats on the county council, said: "There is enough money stashed away in the administration's coffers to freeze council tax and improve services for Surrey residents where there is a real need to do so."
Communities and Local Government Secretary Eric Pickles said councillors across England had a "moral duty" to keep down the cost of living.
But Mr Hodge said: "We do not flinch from the decisions that are necessary, even if they are difficult."
He said the increase would enable the council to:
Provide 12,000 school places needed over the next five years and improve school standards in the county
Invest £25m in the county's roads
Put more money into adult social services in the coming year
Sponsor 500 apprenticeships next year
The council also raised its charge last year, in defiance of the government, but Mr Hodge has dismissed suggestions by Mr Pickles that councils which increased bills by 2% or more were "democracy dodgers".
"I do what is right for the people of Surrey," he said.