Sex abuse victim says Surrey Police 'failed in investigation'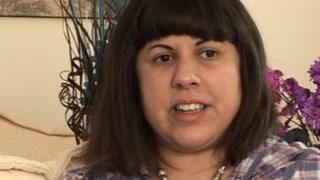 A victim of sexual abuse has claimed that Surrey Police failed to investigate her case properly.
Lina Barnes was attacked by Gospel Hall Brethren preacher Allan Cundick when she was a child.
She reported the abuse to police in 2011 and Cundick, from Woking in Surrey, was arrested.
He admitted one count of indecent assault and received a police caution and was placed on the sex offenders register for two years.
In a statement, Surrey Police said a complaint had been made which was being examined's by the force's Professional Standards Department.
Ms Barnes, who has waived her right to anonymity, said she believed her case had been mishandled, adding that she felt let down that Cundick only received a caution.
She said she was repeatedly sexually assaulted by Cundick, who is now in his 70s, when she was aged between 10 and 13.
'Purely by chance'
When she reported him to Surrey Police in May 2011, she said she provided the names of corroborating witnesses.
"I feel like I've been cheated to say the least," Ms Barnes said.
"They have said publicly and openly that they investigate cases of historic abuse thoroughly.
"In 2011 when I made my statement, my case was not investigated at all."
In November last year, another woman went to her local police force and reported that she had also been abused as a child by Cundick.
The force recorded an interview with her and sent it to Surrey Police.
Surrey Police have not arrested Cundick over the more recent allegation.
Ms Barnes said she felt it was a further blunder that she was not informed about the new complainant.
"I found out purely by chance, my husband looking on the internet," she said.
"I wasn't told about her and I believe it would have given me strength had I known about her, and some level of comfort as well."
John Fassenfelt, chairman of the Magistrates' Association, said the association's view was that police cautions should not be issued for sexual offences "full stop".
"We feel sexual offences are in the more serious category of crimes and serious crimes should always be brought to court," he said.
In a statement, Surrey Police said: "We have received a complaint which is currently being looked at by our Professional Standards Department.
"Officers from Surrey Police have met with the victim to discuss her concerns and we expect to update her shortly on the outcome."
A force spokeswoman said victim welfare was a priority for the police service "and complaints of this nature are taken seriously".
She added: "Surrey Police recently released a report which highlighted how sharing information between victims may help give them confidence in supporting prosecutions as a case progresses.
"However, at this time a live investigation remains ongoing, inquiries continue in liaison with the Crown Prosecution Service and it would be inappropriate to comment further on the case."